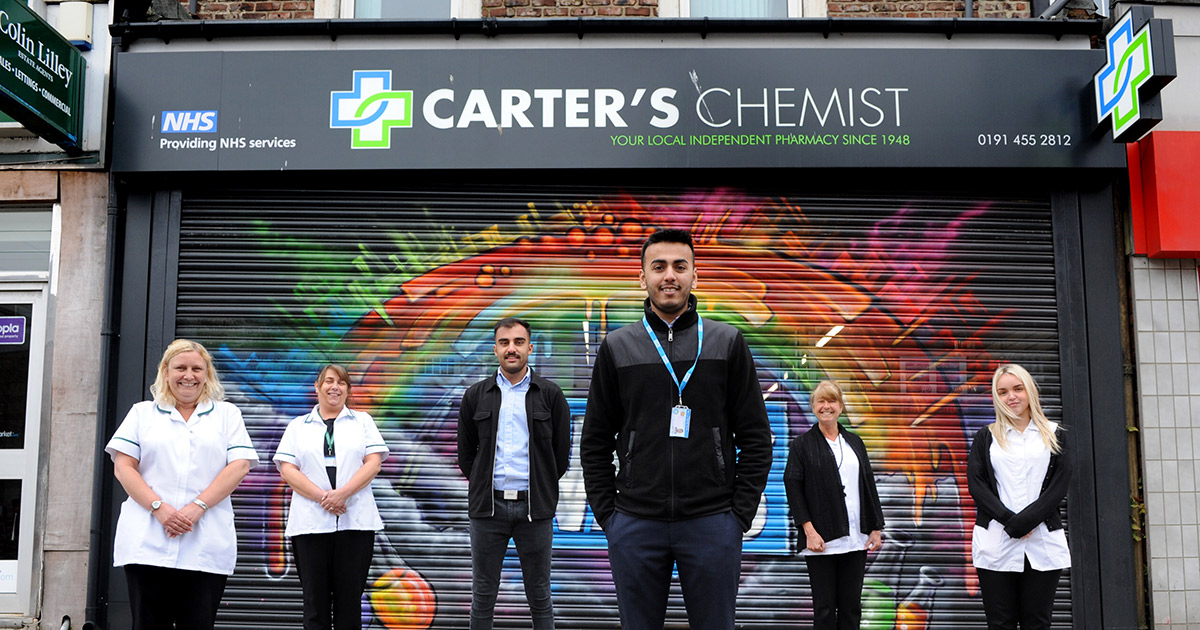 Thank you

Carter's Chemist
Pharmacy boss has a very healthy respect for staff that support the vulnerable in the community
Hassan Malik, owner of Carter's Chemist, Fowler Street, South Shields has nominated his pharmacy team who have gone out of their way to help the people of South Shields amidst the Covid-19 pandemic.
Hassan, said: "I am extremely proud of my team who have gone above and beyond the call of duty during the pandemic. They have bravely rallied together and stepped up to support the community.
"We are offering free deliveries to anyone who does not want to come to the pharmacy and we have given out 100 free hand sanitisers to residents and the same number to key workers. The team have put together and donated 50 care packages to vulnerable people, containing masks, gloves, cough mixture and paracetamol. We have donated hand sanitisers, creams and chocolates to South Tyneside Hospital and have also provided 100 free face shields to all of the surgeries in South Shields to help with the lack of PPE.
We currently have three staff members that are shielding themselves at home as they fall in the vulnerable group and we are missing them greatly. In their absence the rest of the team have been working extra hard, coming in early and finishing late.
"Finally, following vandalism to the shop front shutter the team transformed the graffiti into an amazing rainbow mural to support the NHS. They are a ray of light in these dark times."
Deborah Garthwaite has worked at the chemist for 37 years.
Deborah said: "We have great comradery and Hassan is a real inspiration, he is a fantastic manager and does so much to keep all our spirits up.
"When a vandal graffitied on the shutters, we wanted to turn it into something positive to make people passing smile and we decided to transform something hurtful in to a beautiful rainbow to assure people there is light ahead of us.
"We have ensured that patients are looked after to our usual very high standard and we are so proud to support our key workers and our community."
The Mayor of South Tyneside Councillor Norman Dick, said: "On behalf of the people of South Tyneside, the Mayoress and I would like to convey our gratitude to you for delivering medicine to residents who cannot leave their home and for providing care packages to the most vulnerable.
"It is wonderful to see this team transform a mindless act of vandalism into a symbol of hope during these difficult times. As the Borough's First Citizen, I would like to say a huge personal thank you for being part of our community and for responding to a series of challenges in an extremely positive way. We are extremely #proud."
Read a press release about Carter's Chemist