Do you know someone
with a story to share?
Whether they are going above and beyond, stepping out of their day-to-day role or doing what they do best so others can carry out essential work, they deserve recognition!
Share their story and help us all say 'thank you'!
Nominate now
What is #ProudtoSupport?
#LoveSouthTyneside #ProudtoSupport aims to celebrate the work of special people during Covid-19 and further bring our community together by recognising their support and sharing their stories.
#ProudToSupport is open to everyone in South Tyneside. This includes council workers, health, police, fire and rescue and other public sector workers, businesses, local groups and individuals who have all played a part. You can nominate yourself or others.
Help us celebrate our fantastic community and say 'thank you'!
People who are #ProudtoSupport
Here are a few of the stories you've told us about.
Want to show you're #ProudToSupport?
Why not download and print our selfie frame, write down who you want to send thanks to, then upload your picture to the #LoveSouthTyneside Facebook page?
Download a selfie frame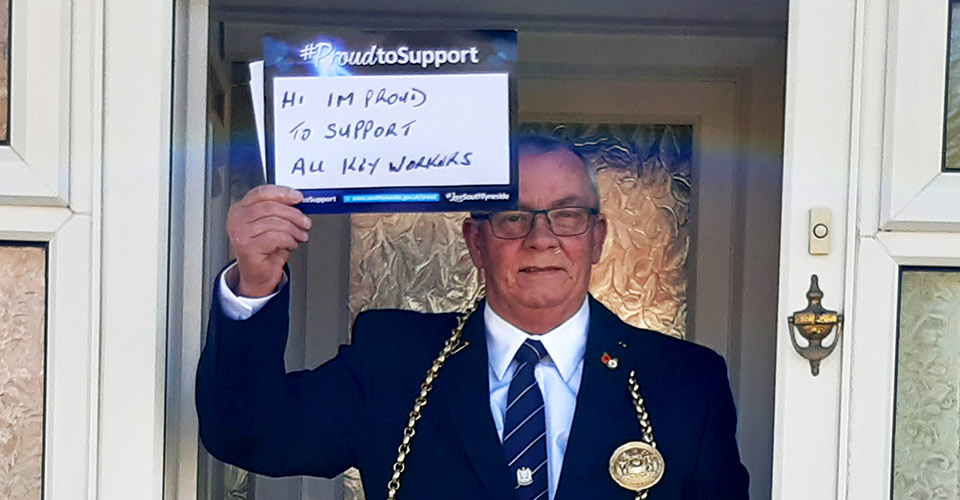 Top Tips for your Selfies
Please remember to:
Print the selfie sign off using colour ink
Write in large, clear writing so the writing is visible and legible
Make sure the person standing in the photo isn't too far away from the camera so the writing can be read
Hold the selfie sign straight so the paper doesn't crumple and the writing doesn't become distorted
Be wary of the camera flash – this can sometimes reflect on the paper meaning that the writing will not be visible