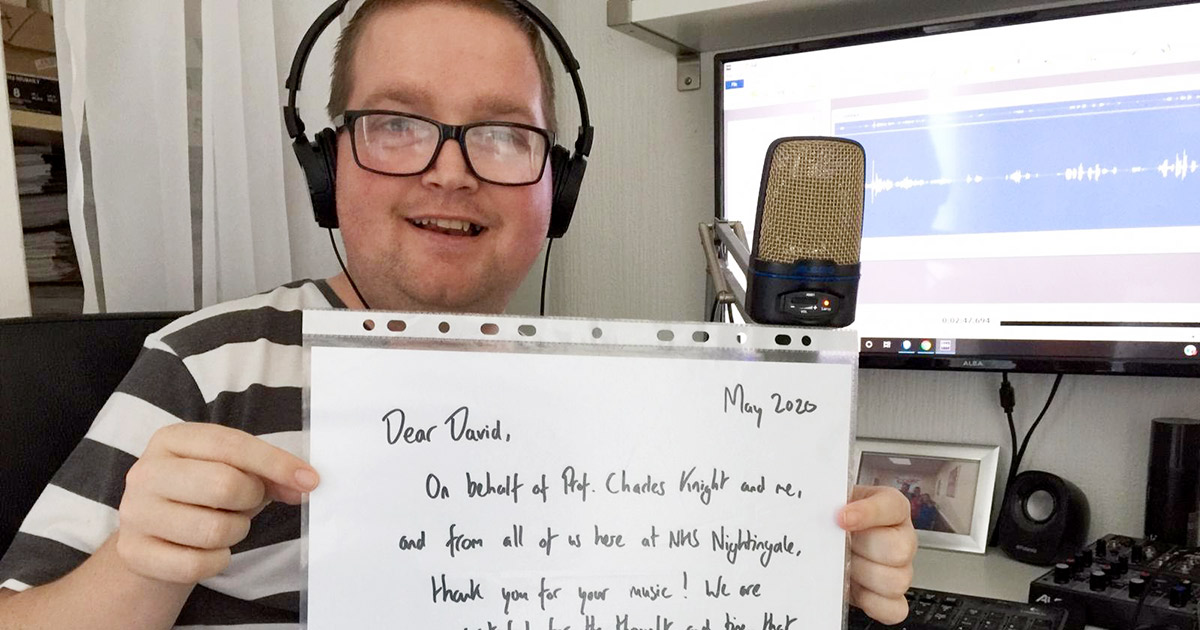 Thank you

David
David Johnson has been hitting all the right notes with hospital patients during the coronavirus pandemic
The 29-year-old has been keeping staff and patients entertained with his daily music shows on Radio South Tyneside.
David was determined not to let coronavirus stop him in his tracks – so has continued broadcasting from his bedroom.
The volunteer DJ, who has autism, said: "I'm just passionate about music and wanted to do something to help with the current situation.
"I love every minute of it and get a real buzz volunteering. I feel like music just cheers people up and we all need that right now. I hope my shows have put a smile on the faces of patients and staff."
David, from Jarrow, also pre-recorded shows from his home and sent them to the Nightingale hospital in London and has since received a hand-written letter of thanks from the Deputy Chief Executive.
"I put together packages of chat and music from all decades and genres and emailed them to the hospital.
"I was thrilled to get the letter back."
David, who has also continued his part-time admin job at the hospital, working remotely, was nominated for the Proud to Support campaign by family friend Katherine Welsh.
She said: "David is just amazing. I think his music will be bringing a lot of comfort to people in hospital who may be feeling very lonely and isolated."
The Mayor of South Tyneside, Councillor Norman Dick, said: "On behalf of the people of South Tyneside, The Mayoress and I would like to convey our gratitude to David for his fantastic work in lifting the spirits of hospital patients and staff at this very difficult time.
"I feel that South Tyneside has joined together, more than ever, as a community and as the Borough's First Citizen, I would like to say a huge personal thank you for being part of our community and for helping us address this challenge in an extremely positive way. We are extremely #proud."