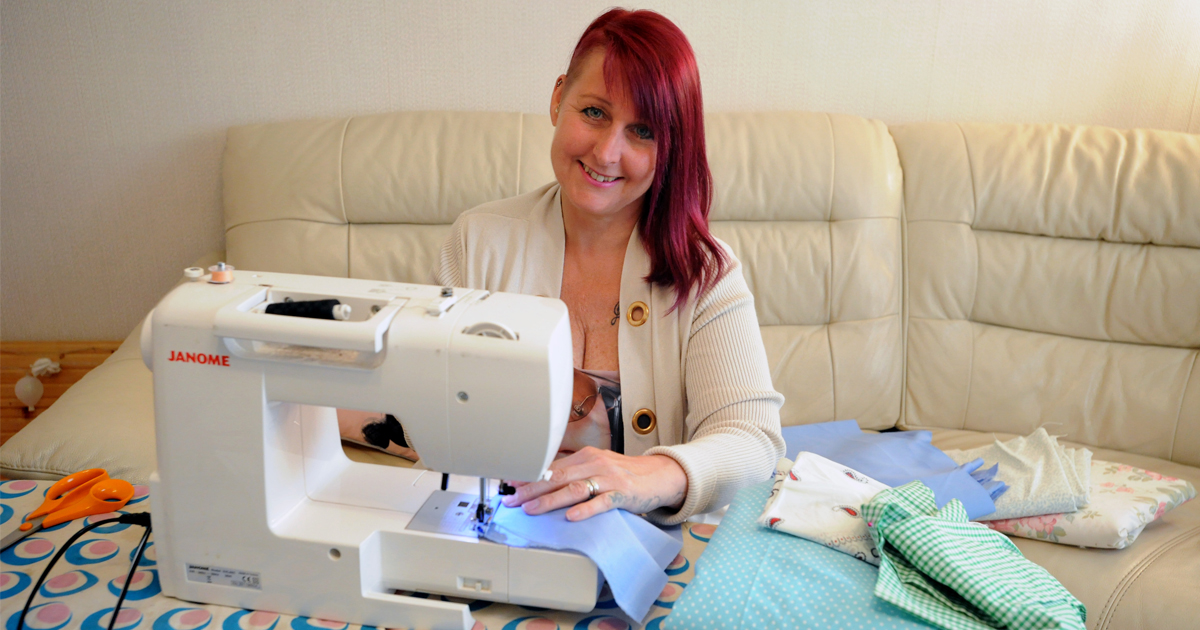 Thank you

Michelle
Michelle sets up shop at home making scrub bags and face masks for key workers
Following the temporary closure of her clothing alterations business, Michelle-Angels, due to Covid-19, Michelle-Ann Potts has taken home her machinery and materials to make scrub bags and face masks for NHS workers and carers.
Michelle has been nominated by her husband, Jason Potts. They live in Jarrow.
Jason, 52, said: "Michelle is the most resilient and selfless person I have ever met. Despite the closure of her business due to the lockdown, she has remained positive and found as many ways as possible to help assist our local NHS workers and carers."
"Using all of her own materials, Michelle has been working 12 hours every day to make scrub bags and face masks for South Tyneside and Sunderland Hospitals, the QE, the RVI and also care workers."
"I am incredibly proud of her and I know she deserves recognition for all of the work she has been doing."
Michelle, 51, said: "I am over the moon with how many scrub bags and face masks I have been able to make. I'm not sure of the exact number but hundreds of each have been delivered to hospitals around the borough. I have used most of my materials, which are 100% cotton, and I will have to replenish my stock when my business reopens but it is worth it to be able to do my bit to protect those on the frontline."
"I have to say a big thank you to Viv Sabatanelli who has worked tirelessly alongside me and also Joy Pritchard who has made a number of scrub bags and head bands."
"I have been looking at various ways in which I can help and through my role as an Avon representative, I am able to get hand creams for £1. I posted about this on Facebook and amazingly I received £350 in sponsorship which I used to buy hand creams for frontline workers. I also used the £50 commission from the sales to buy extra."
"During the pandemic, I have raised nearly £250 for Murray's Food Bank, located on the Hedworth Estate, through Facebook donations and I have been helping Hedworthfield Community Association deliver free meals to the vulnerable and elderly in the borough. They are doing a fantastic job and I am thrilled to support them in any way I can."
The Mayor of South Tyneside Councillor Norman Dick, said: "On behalf of the people of South Tyneside, The Mayoress and I would like to convey our gratitude to you for helping to protect and support our local NHS staff and carers."
"I feel that South Tyneside has joined together, more than ever, as a community and as the Borough's First Citizen, I would like to say a huge personal thank you for being part of our community and for helping us to address this challenge in an extremely positive way. We are extremely #proud."