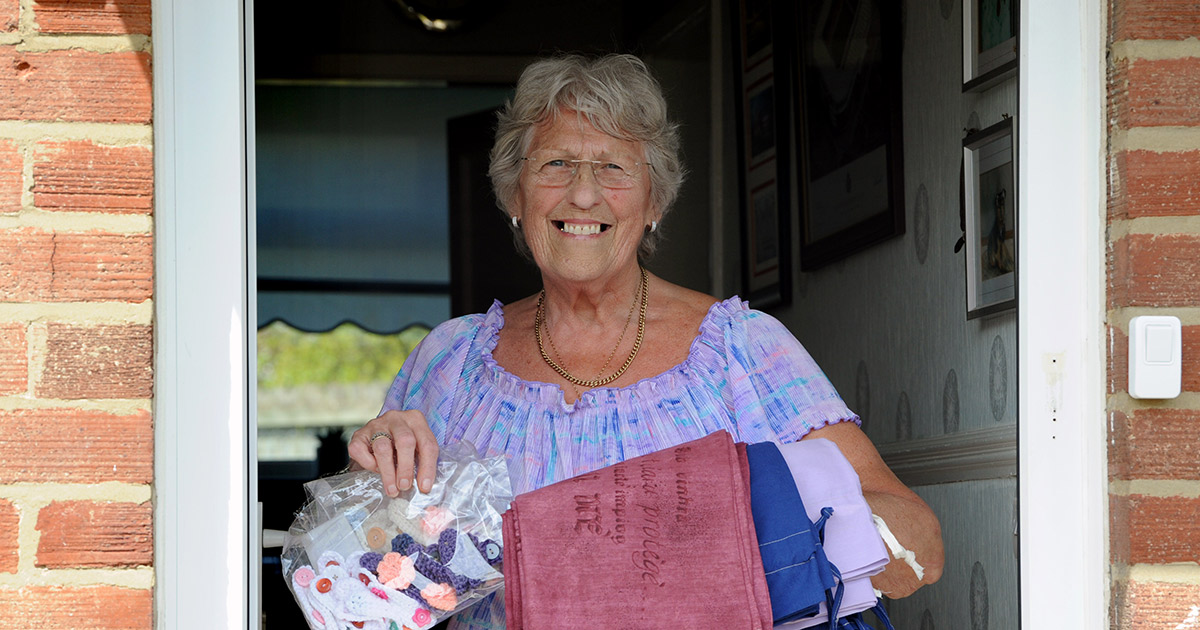 Thank you

Patricia
Patricia spends her time in isolation making helpful items for the NHS and care workers
Patricia Watt, 83, from Hebburn, has made over 100 ear savers and bags for NHS staff and care workers to store their uniforms before washing.
Patricia, who has underlying health conditions, spends hours every day making the items as she wants to do her bit to help out and say thank you to our frontline workers. She has been nominated by her grandson, Scott Berry.
Scott, 36, from Hebburn, said: "I couldn't be prouder of my Nanna. She spends at least two hours every day making items that really do make a difference to our NHS and care workers.
"The ear savers that she makes are small padded bands with buttons and they clip on to face masks, stopping irritation and pain that is caused to their ears from continually wearing the masks.
"Patricia also makes uniform bags and they are for those on the frontline who are in higher risk areas and need a safe way to store their uniform until they can wash it after work."
Patricia, said: "I spend most nights crocheting uniform bags and making ear savers as it is my way of saying thank you to our wondering frontline heroes.
"I have always crocheted and knew I could provide valuable assistance in the battle to produce enough PPE. I was originally using spare cotton materials from my own supply but I quickly ran out and I am currently using duvet covers from my house and some donated by my daughter. They are all professionally washed first to make sure that they are safe to use.
"I also crochet hearts for the Co-operative funeralcare in Hebburn as this is an extremely difficult time for those who are losing loved ones, whether this be to Covid-19 or other causes. The person conducting the funeral puts one heart in to the hand of the deceased and the other goes to a relative. This helps to bring them comfort at a time when they aren't able to grieve in the normal way or even, perhaps, attend the service, if they are self-isolating."
The Mayor of South Tyneside Councillor Norman Dick, said: "On behalf of the people of South Tyneside, The Mayoress and I would like to convey our gratitude to you for providing items that help make life a little more comfortable and easier for our NHS staff and carers who are on the frontline. We would also like to thank you for thinking about the deceased and their loved ones during this very difficult time.
"I feel that South Tyneside has joined together, more than ever, as a community and as the Borough's First Citizen, I would like to say a huge personal thank you for being part of our community and for helping us to address this challenge in an extremely positive way. We are extremely #proud."