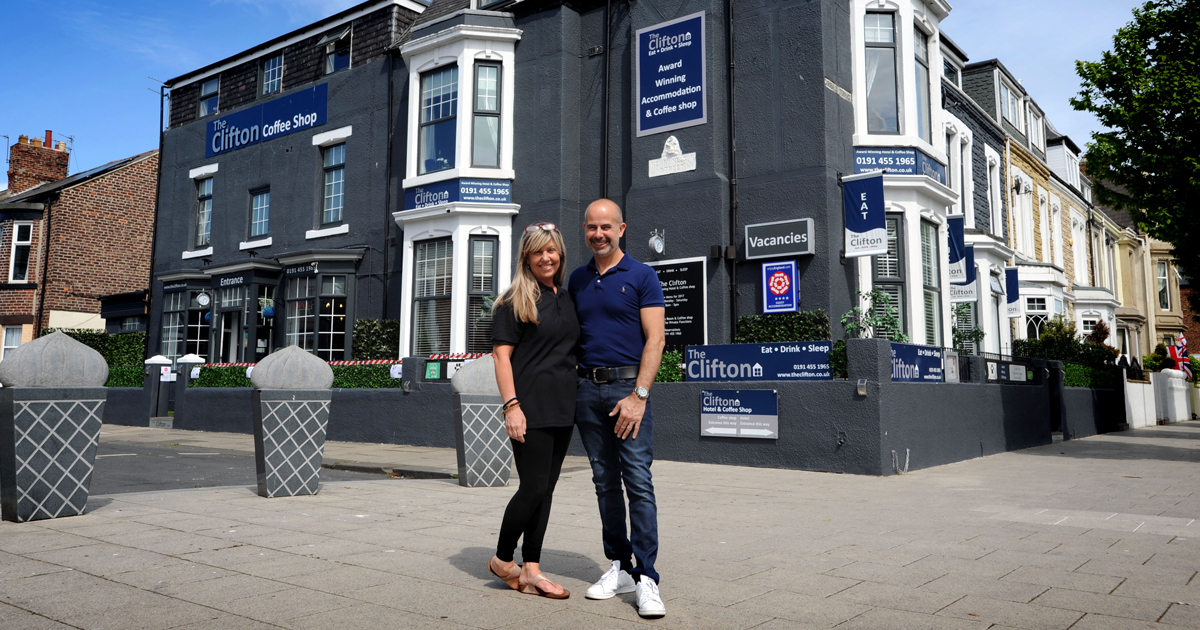 Thank you

Scott and Liz
Ocean Road hotel provides a safe and comfortable haven for key workers
Scott and Liz Carlucci own the Clifton Hotel and coffee shop on Ocean Road, South Shields. Since closing to the public due to the lockdown, they have been getting up before 6am every morning to cook takeaway breakfasts for key workers who are staying at the hotel.
Scott and Liz have been nominated by daughter Bethany, 19, who works with them.
Bethany, said: "I'm really proud of my parents and how hard they are working to ensure key workers staying with us are as comfortable as possible. They get up early every morning so they all have a hot breakfast to take with them before they start their long shifts and whilst they are out, they clean the rooms from top to bottom to ensure everything is safe and spotless for them when they return."
"We have also started running a cake2go service for customers in South Tyneside who are self-isolating. They have been very proactive within their business to look after the health, welfare and safety of their staff and customers."
Liz, 50, said: "We have had around ten keyworkers stay with us since the lockdown began and we are proud that we are able to do our part. Many of them are here because they have family members with underling health conditions and they have had to move out during the pandemic to protect them. We are aware that this is an extremely difficult time for them and we are doing our best to make sure they are comfortable and safe. We wear gloves, face masks and aprons at all times and make sure we are adhering to social distancing rules."
"We have also made changes to the hotel so it is safe for when we open to the public. We have added hand sanitiser machines to both the hotel and coffee shop, developed thorough cleaning schedules for our bedrooms and public areas and we have asked staff to undertake a new cleaning course for when they return to work."
"Our staff are like family to us and we cannot wait to have them back working alongside us. They have been by our side since we opened five years ago and we miss them every day that they are not here."
The Mayor of South Tyneside Councillor Norman Dick, said: "On behalf of the people of South Tyneside, The Mayoress and I would like to convey our gratitude to you for helping make sure that key workers who are staying with you are comfortable, safe and well looked after."
"It's wonderful to see businesses playing a role in supporting our key workers. I feel that South Tyneside has joined together, more than ever, as a community and as the Borough's First Citizen, I would like to say a huge personal thank you for being part of our community and for helping us to address this challenge in an extremely positive way. We are extremely #proud."